Lawn Furniture — Literally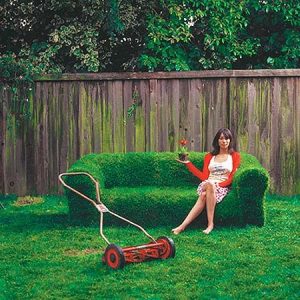 At The Grass Outlet, we love everything about grass and are always interested in how people put it to use — from front yards to football stadiums to rooftops. We recently came across a use for grass we had never seen before, and just knew we had to share it with our readers!
People have been growing their own furniture out of grass — chairs, chaise lounges, couches… It's safe to say that this new trend really puts the "lawn" in lawn furniture! Just imagine: it's a beautiful day and you would rather be sitting outside, but don't want to leave the comfort of your couch. With grass furniture, you get the best of both worlds! And when friends come over for a barbeque you can offer an exciting new experience that will have everyone talking.
In most places you can't purchase this furniture– you have to make it yourself. But the directions seem pretty simple, at least for the sofa. You'll need hay bales, burlap mesh, twine, and quality sod, among a few other things. You can find instructions here.
Is grass furniture offbeat? Yes, but think of the advantages it has:
More oxygen released around your home
You can get that "picnic" feeling while sitting in a supportive chair
You're one step closer to living like a hobbit in the Shire
We're all about folks "going green" — especially when that means taking advantage of fresh, Texas-grown turfgrass. Shop our online store today to see what kind of grass would suit your lawn (or lawn furniture!)