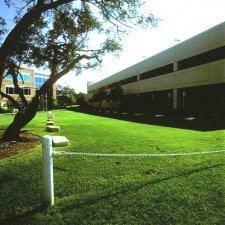 Many business owners, homeowners and landscaping companies prefer to use sod over seed when resurfacing a lawn, and it's no wonder: you can install sod practically any time of the year and get beautiful results almost instantly.
The Grass Outlet grows and sells eight great sod varieties that are uniquely suited for Texas lawns. But before you purchase pallets of grass that look good to you, take some time to ask yourself the following questions. The answers will help you choose a variety that will be best for your lawn.
How much light does my lawn get? Take a few days to observe how much sunlight the space gets in an average day. Sunlight is essential for any grass, but some varieties are more shade resistant than others. Ask yourself if your yard gets full sun, partial sun or shade. Full sun = 7-8 hours; partial sun = 4-6 hours; shade = less than 4 hours.
What kind of turf will work best with the seasonal changes in my area? Texas is one state with many climates. When choosing a grass variety, the most important thing to consider is how cold your winters get: some varieties won't withstand extreme cold. As far as rainfall goes, pretty much everyone in the state can benefit from a drought tolerant variety (and thankfully we carry a good number of them!)
How much foot traffic will there be on this grass? Different varieties hold up better against heavy wear and tear, so ask yourself what the space will be used for– parties and picnics? your children's play area? a putting green? The answer to this question will help you narrow your choices.
Once you have your answers, contact us or call us and we will help you settle on the right sod to purchase. We have offices in Austin, Dallas/Ft. Worth, San Antonio and Houston. Our online store also features a nifty slider feature that measures mowing frequency, fall color retention and other qualities. Give it a try!