3 Tips for Mowing Wet Grass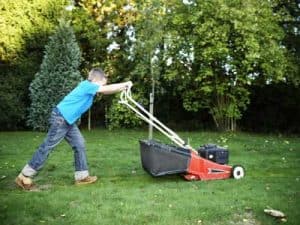 When we think of a summer in Texas, rain isn't the first thought that comes to mind. When I was younger, my first job was cutting grass for various houses in my neighborhood. My work grew into a nice flow when I had multiple houses in a row, where I could do them all at once. On the other hand, rain really threw a wrench into my operation. Wet grass is difficult to manage, and is just plain messy. But, if you're dead set on trimming the overgrown grass in your yard after a rain shower, use these tips to reduce tension of the dirty job ahead of you!
1. Clean the Mower After Use
Wet/damp grass sticks to everything, including the underside of a lawn mower. Be sure to clean it out soon after you finish mowing. If left unattended, it will create a moldy, smelly mess that will only become harder to scrape off in the future!
2. Mow More Often
If you're expected to have rain for multiple weeks, be sure to mow more often as to not let the wet grass build sky high. If you do a little each week, it will be easier on a weekly basis. You won't have to mow three times the amount of grass if you wait for the rainstorms to slow.
3. Raise the Mower
Like the above tip, the less wet grass you have to mow, the better. If you're expecting dry weather in the next few days but need to cut it while it's damp before then, raise the mower deck up. Once raised, you won't have to cut as much grass, and you'll be able to get the rest once it has dried. In the mean time, your lawn will look great while you wait for sunnier days!
For more grass advice, or questions regarding lawn care, please contact the professionals at The Grass Outlet!