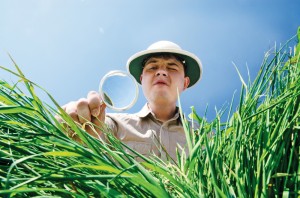 Do you have patchy grass? Large spots of bare lawn can completely ruin the aesthetics of your yard. The good news is that patchy grass can be treated and filled in with sod grass to improve the look of your lawn. Do not fret, if you follow these tips, pretty soon your lawn will be back to its beautiful and bonny wonder.
Steps to Patch Your Grass
Address the issue. There is a reason for your patchy grass, and unless you fix the issue, the new sod you lay down will eventually have the same problem. Whether it be chinch bugs or shade stress, it is important that you address these problems first. If you are having a hard time determining the problem, you might consider asking a lawn professional to assess the issue.
Prepare the soil. Once the problem has been addressed, it is time to patch the bare spots! First things first: you need to make sure the soil is in a good condition to easily accept new sod. To do this, you will need to loosen the soil and discard all roots and unwanted debris. Then, rake it smooth so that the sod will have an even surface to adhere to. Also, its best to prepare sections in shapes with straight lines–you will thank yourself when it is time to lay sod.
Lay the sod. Turf grass, such as St. Augustine, is a great option to patch bare spots of grass, especially if your grass has experienced shade stress. When laying sod, make sure the pieces fit tightly together. Also, to ensure your grass will adequately adhere, you can use a weighted lawn roller or walk over a few boards for a tight contact between soil and sod.
Water, water, water. You may need to water the patch every day for a week, all the while making sure that the soil below the sod is getting wet as well. Try to keep off the grass for at least two weeks, and once the sod is tightly rooted, you may mow the section carefully.
Sod Grass Experts
If you have any questions about patching with sod grass, do not hesitate to contact the sod grass experts at The Grass Outlet.