20 Lawn and Garden DIY Ideas
Keeping your lawn lively and decorated doesn't have to cost a fortune. Check out these 20 DIY ideas and let the backyard makeover begin.
---
Decor
---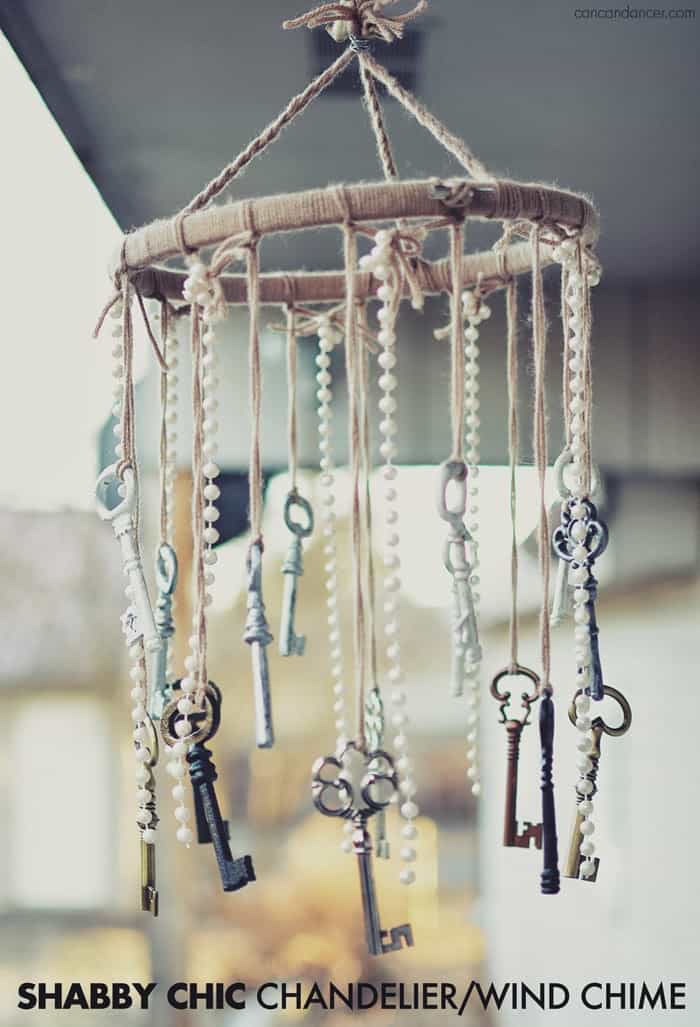 1. Wind chimes
These dangling masterpieces sound lovely in the summer breeze and are surprisingly simple to make. Start with a medium sized stick and paint it any way you like. Then tie on pieces of strings in different lengths. Lastly, tie on your objects all over your strings. Choose from household odds and ends like seashells, beads, keys, utensils, or even bottle caps.
---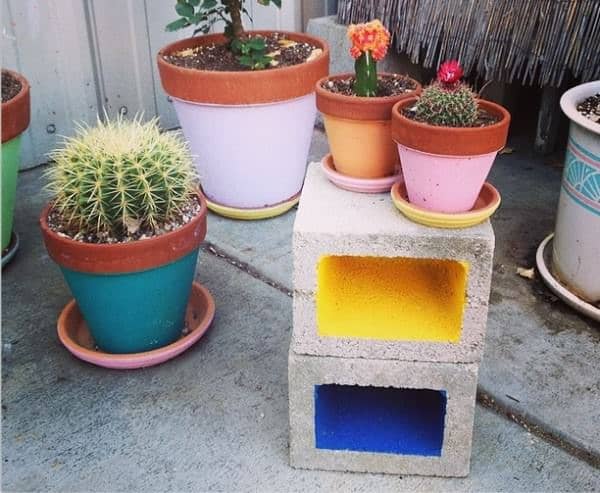 2. Cinder Block Table
Rather than leave a cinder block in the corner of your garage, transform it into a colorful table with some paint. When standing up vertically, cinder blocks can hold drinks and act as a corner table on your patio.
---
3. Fence Table
Perfect for barbecues and backyard parties, a fence table is handy when there are too many people and not enough tables to set down your food and drink. This DIY acts as a mini table attached to your fence. You'll need a few boards and screws to create the horizontal table first. Once that is completed you can add hinges and two longer thinner boards to attach the table mid-level to your fence.
---
Plants
---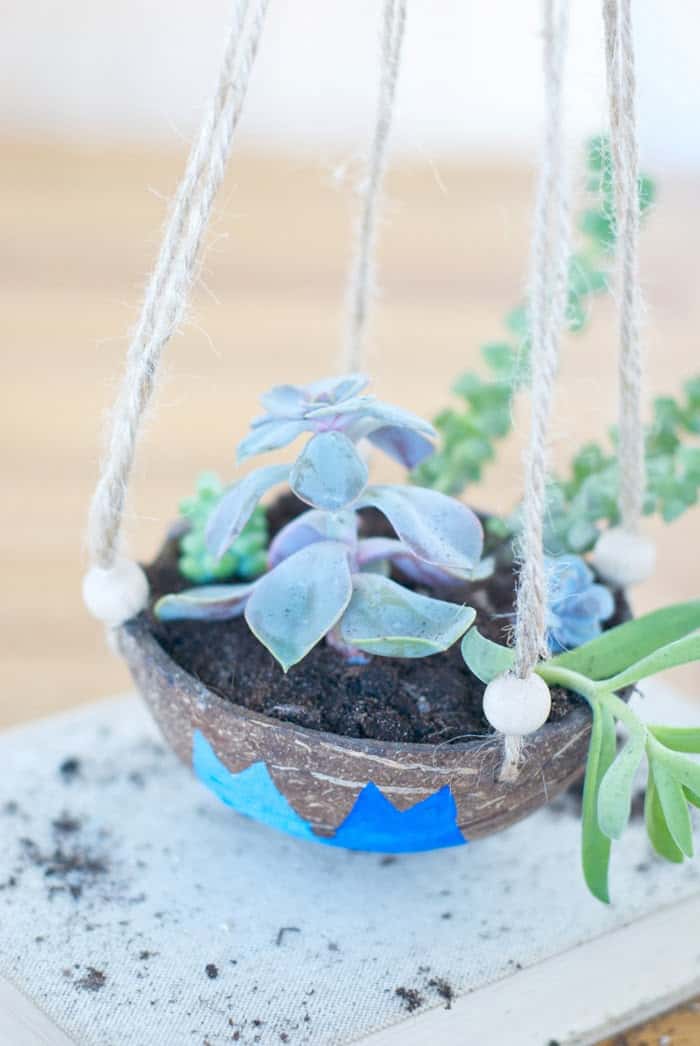 4. Hanging Planter
Hanging planters add a touch of elegance to your backyard. Find a sturdy bowl (tin baking bowls can work) and put your plant inside. Then screw some holes around the bowl towards the top to weave your string or chain through. Tie the strings as they meet on the top and you are ready to hang up your plant.
---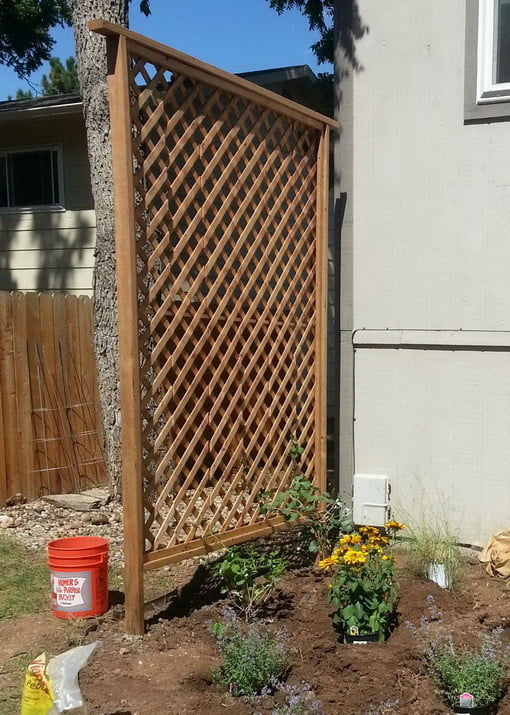 5. Wall Trellis
Always dreamed of living in a house with vines crawling on the wall? Well now you can with an easy to build wall trellis kit sold in various home and garden stores or online.
---
Garden
---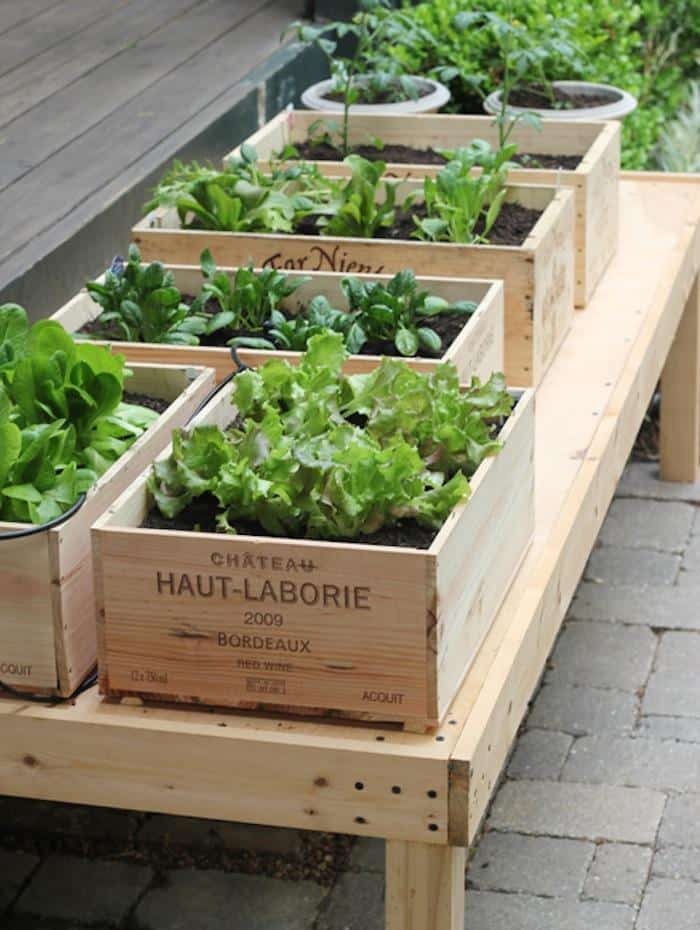 6. Wine Box Garden
The problem with growing your own garden can often be critters that taste your veggies before you can. To help prevent this, grow your veggies and herbs in wine boxes or crates. Then place your boxed garden on a low table, bench, or steps outside to further protect your green creations.
---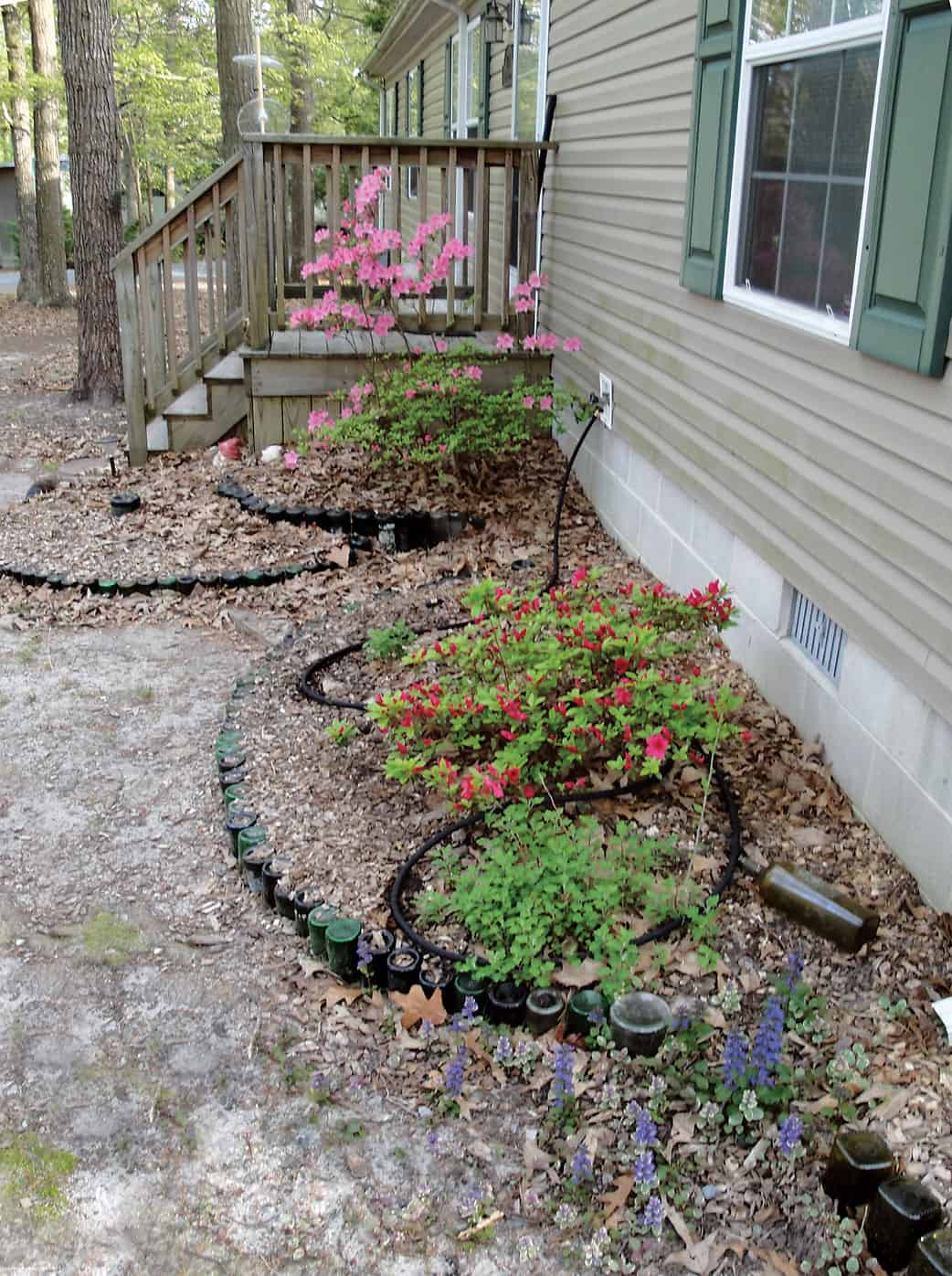 7. Bottle Edging
If kids are stomping all over your garden, then this DIY can help save your flowers and plants from getting trampled on. Gather some colorful and clear bottles, wine bottles work best, and plant the openings upside down. Line the edge of your garden to create a colorful barrier.
---
Wing Stop
---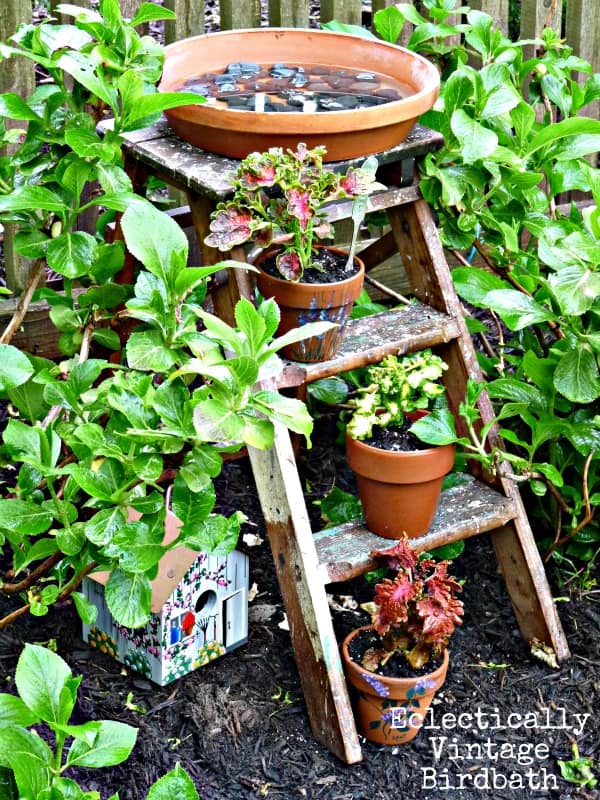 8. Bird Bath
Bird baths can be created in a number of ways. One option is to get a lamp base and place a large shallow bowl on top for a quirky look. Another option is to stack terra-cotta pots upside down and on top of each other. Then place a large saucer on top. For a more rustic feel use an old wooden step ladder and place your saucer on the top step. Decorate the rest of the steps with some plants, flowers, and rocks.
---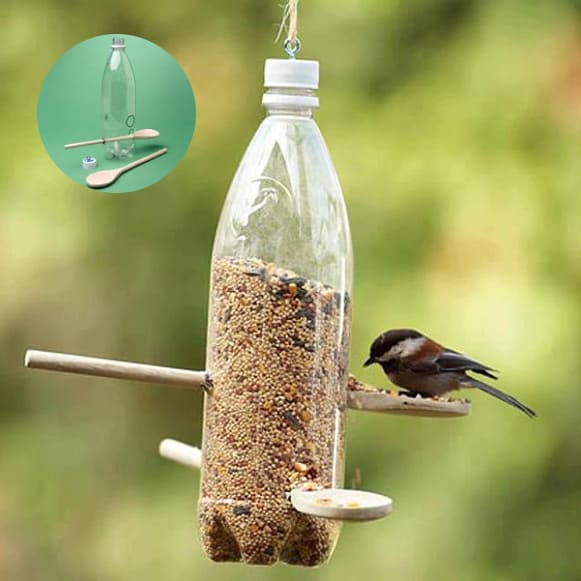 9. Bird Feeder
This is a fun activity to do with the whole family. First get your clear plastic water bottle and insert holes to poke through two wooden spoons. The spoons will be where the birds can perch and eat the birdseed. Also, poke a hole in the bottle cap to insert and knot the string inside. All that's left is to pour in your bird seed.
---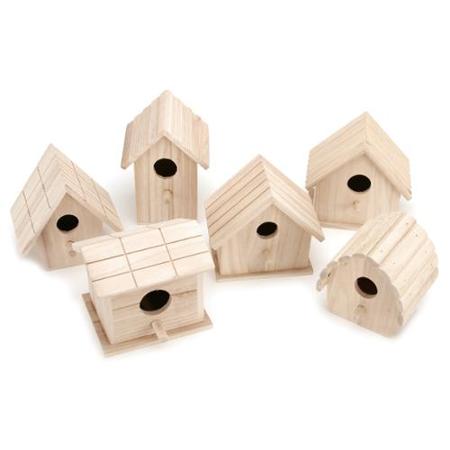 10. Birdhouse
Another kid-friendly task is building a birdhouse. It is easy to do, with kits available in stores and online.
---
Lights
---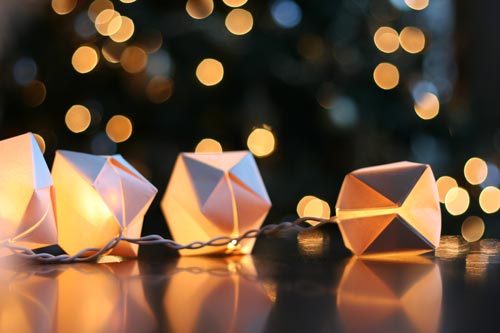 11. Twinkle Lights
If you are too lazy to take down your twinkle lights from Christmas time like the rest of us, then this is the perfect solution. You can cover the bulbs of your twinkle lights with origami cubes. If you can't get the hang of origami, you can use decorative cupcake wrappers and transform your winter twinkle lights into summer decor.
---
12. Mason Jar Lights
While many people set up electric bulbs into their mason jars, the process can be quite difficult. Instead, add a tea light candle. You can also wrap the outside of your mason jar with lace for a more romantic feel. If your candle keeps sliding around inside try adding pebbles, marbles, or sand as your base.
---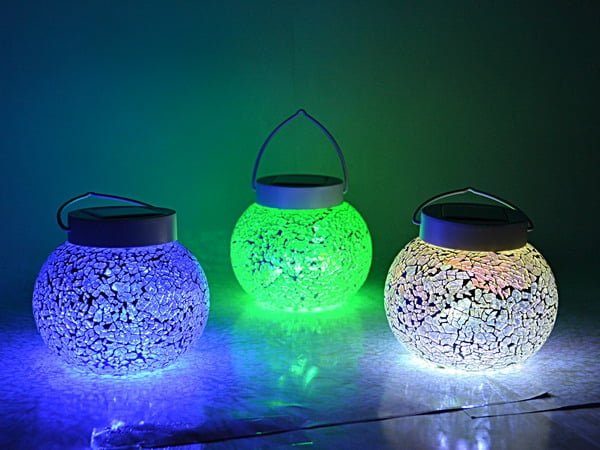 13. Lanterns
Adding lanterns to your backyard can be extremely affordable. Simply screw some hooks you use indoors around your fence. Then place hanging solar lights on the hooks. Solar lights can be bought at many discount stores for a cheap price.
---
Stepping Stones
---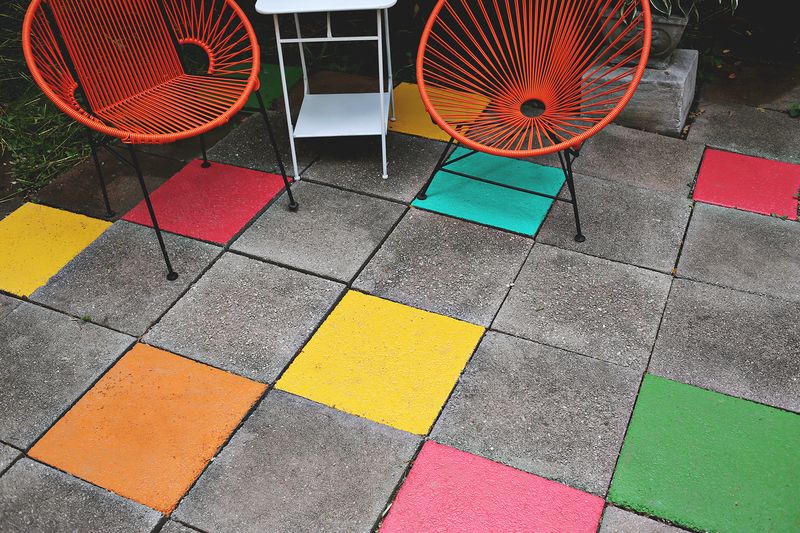 14. Colored Tiles
Add a bit of color to your patio by painting a few select squares with paint to create a colorful checkered look. Or create a graphic image by using tape to separate different colors on each tile.
---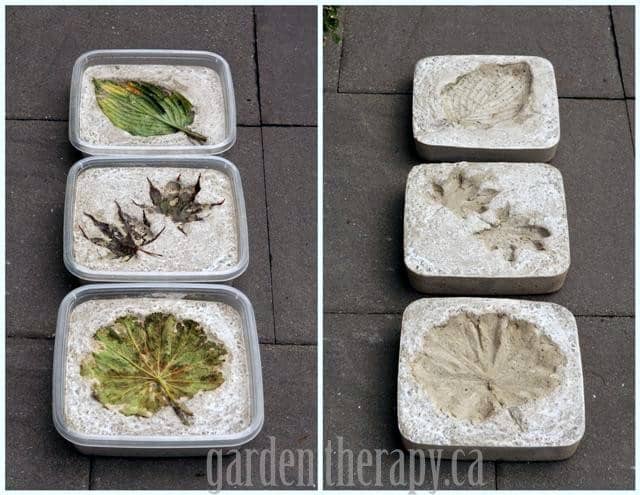 15. Cement Leaves
For a very creative walkway try finding large leaves to use as imprints for stepping stones. Place the leaf on a plastic sheet and put mixed cement (found at home/garden stores) on top of the leaf with the grooves facing up. Use wire to mark the border of your stepping stone and wait to dry.
---
Tools
---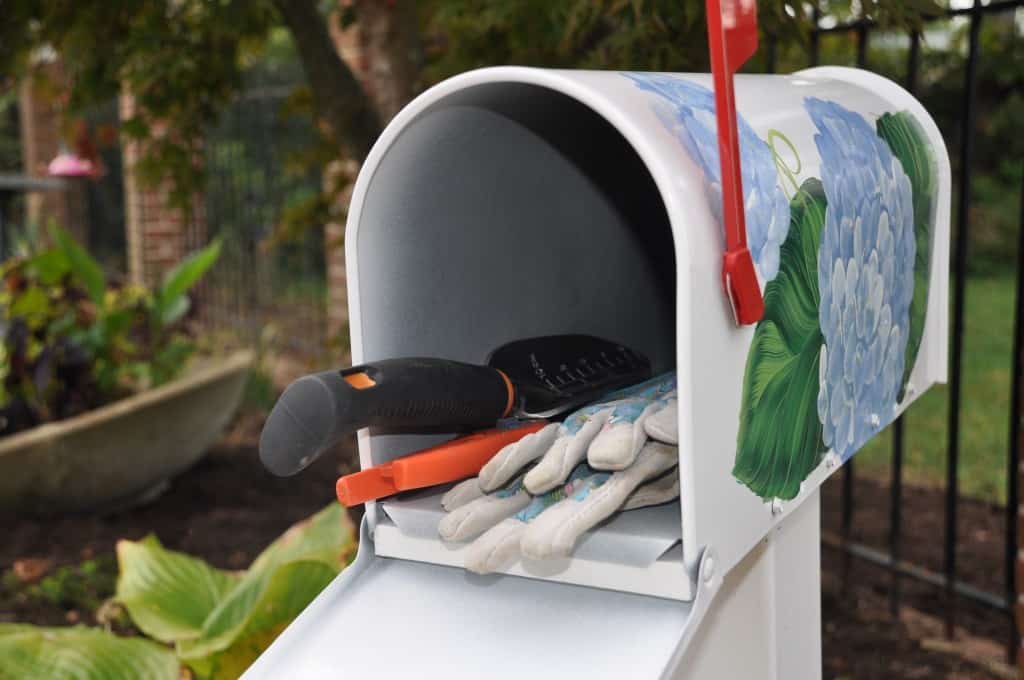 16. Toolbox
This DIY is a reuse for your old mailbox. If you are always heading back and forth to the garage for tools, your unused mailbox can make a better alternative. You can also station your mailbox onto a low patio wall for better access.
---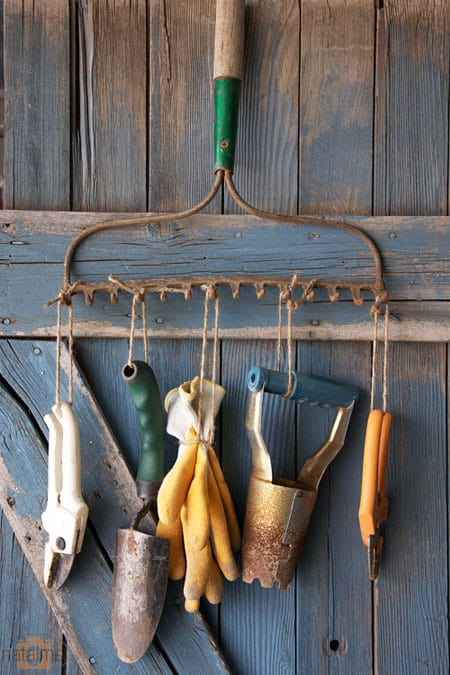 17. Rake Holder
When hung upside down, a rake is perfect for hanging up all of your garden tools.
---
Entertainment
---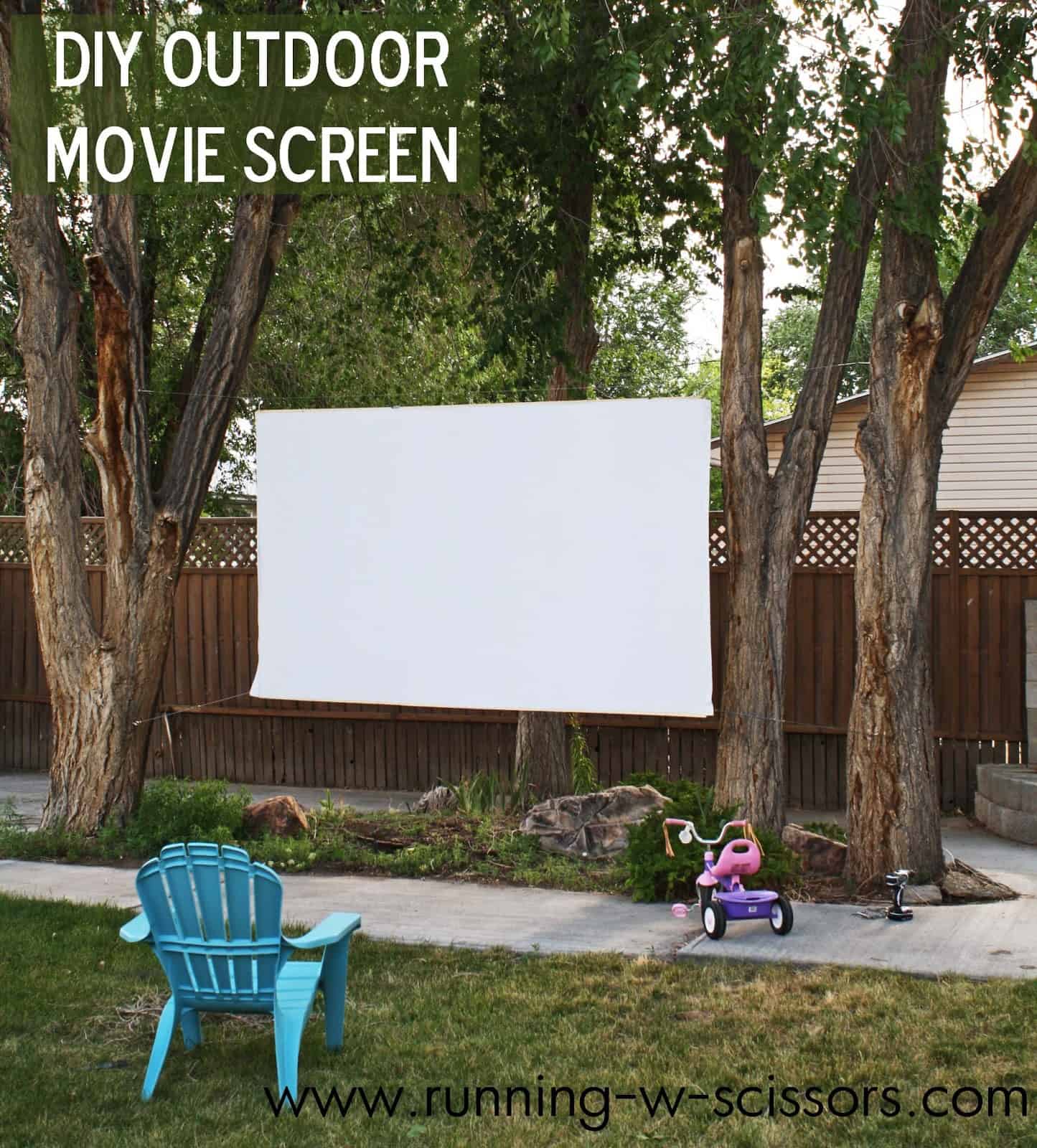 18. Movie Screen
Spend a summer at the movies in the comfort of your own backyard. Use a white sheet or screen fabric for your screen. To avoid wrinkles, make a wooden frame with two hooks on top and attach it to the movie screen. Then attach a curtain wire to two trees at a distance from each other to hang up your screen. Press play from your projector and enjoy the endless summer nights.
---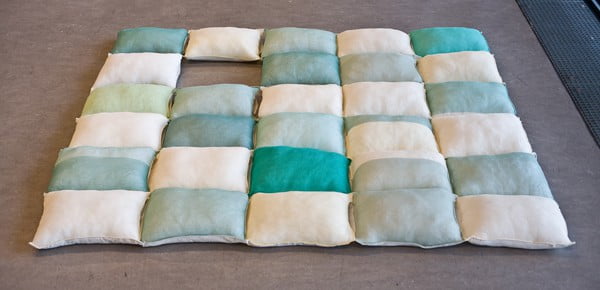 19. Pillow Blanket
For comfy viewing pleasure create a pillow blanket everyone can spread out on. All you have to do is find a bunch of pillows and sew the borders or corners together.
---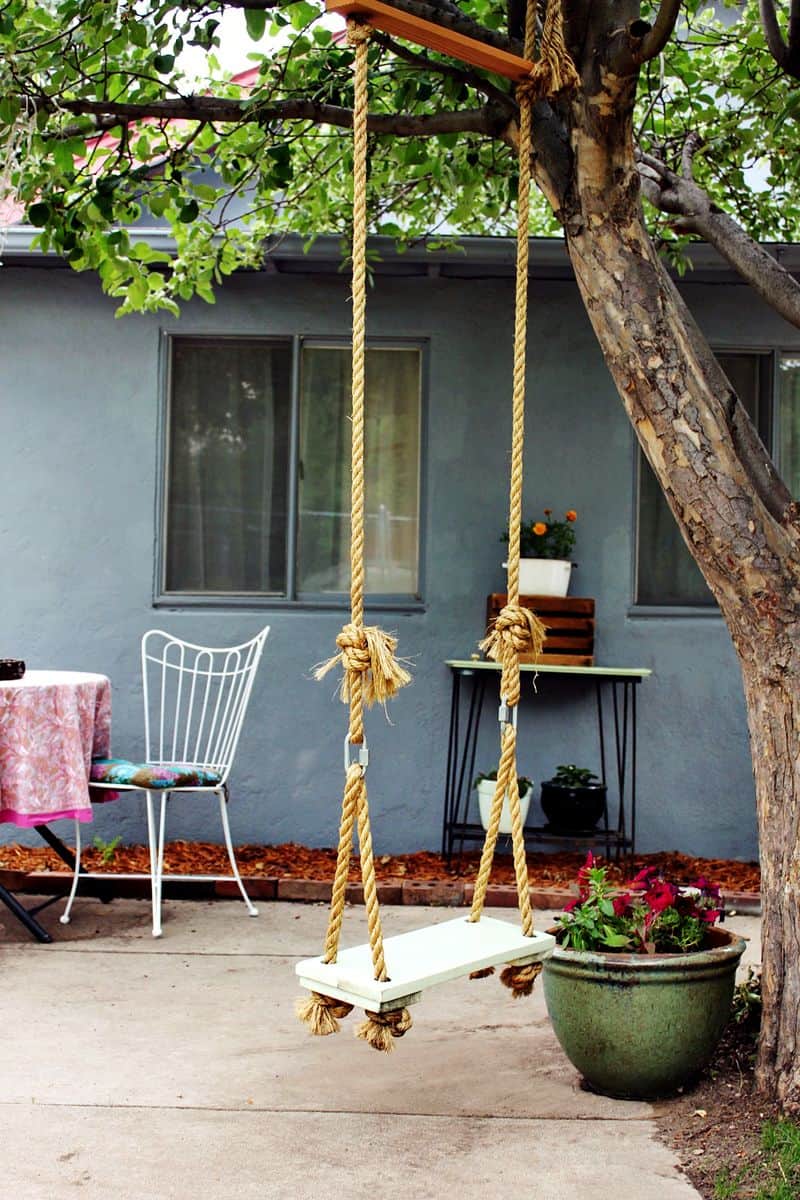 20. Rope Swing
Nothing says childhood nostalgia like a rope swing. All you need is a wooden board for the seat and drill a hole in the center. Insert your sturdy rope and knot on the inside. Tie the rope to a tree and let loose!