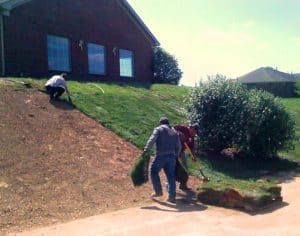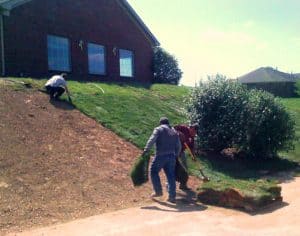 When it comes to transforming a bald or patchy lawn into a lush green space, sod is the obvious choice for many homeowners. Choosing to install sod instead of planting grass seed saves people months of exhaustive maintenance, frustration and additional expense. Here's why:
With sod you can establish your new lawn anytime the ground is not frozen and your grass variety is available. Sod is not limited by a short growing season.
Sod is already mature grass, whereas grass seed can take 1-3 years to fully grow. Moreover, sod can withstand traffic and be enjoyed within 2-3 weeks after installation!
Sod absorbs sound and provides a cool atmosphere.
You can gain immediate erosion control with sod.
Increase the property value of your home instantly by laying sod (especially helpful if you're trying to sell your home).
The thick turf mat serves as a barrier to weeds.
Less water is needed to establish and care for sod versus seed.
You can instantly increase oxygen production around your home.
The advantages of sod become even clearer in light of the disadvantages of planting seed. Here are some disadvantages of seed to keep in mind when deciding how to renew a green space:
Planting must be done during proper growing season.
Establishment takes between 1-3 years depending on the soil and growing conditions.
Great time and effort must be spent to nurture grass seed to maturity.
The seed is fragile and highly vulnerable to erosion and foot traffic, so homeowners might have to re-seed.
Often seed does not grow in at a uniform height or color, resulting in a patchy look.
Seed is weed-prone.
While growing, seed needs substantially more water and fertilization to be successful.
When it comes to getting a new lawn, there's really no comparison. And here at The Grass Outlet, our team is here to help you find just the right sod to suit your needs, as well as offering you tailor-made strategies for a successful lawn establishment. Interested in learning more about sod? A great place to start is the Maintenance section of our website, which covers the entire installation process.
If you're ready for a brand new lawn without the wait, contact us today to get started.  We proudly serve the Austin, Dallas, Fort Worth, San Antonio and Houston Metro areas.