How Big is a Pallet of Sod?
 One of the first steps you'll need to take in installing sod is to measure the area you need to cover. Measure the length by the width to get the square footage (or measure the diameter for circular areas). To make the process even easier for you, we provide a Grasstimator tool to help you calculate approximately how much sod to purchase. However, be advised that it is always recommended to order 5-10% more than is needed for your space, allowing you to work around curves and other unique areas.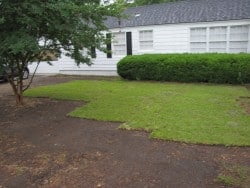 Now for the sake of visualization (and a bit of fun), let's take a look at how many pallets of sod it would take to cover some famous places & spaces:
To completely resurface one of the courts used for the U.S. Open Tennis Championship, expect to lay  just under 7 pallets to cover the 2,808 square feet.
Say the Super Dome wants to ditch the artificial stuff. Get last year's champions to help you install the 146 sod pallets you'll need to cover the 60,000 square foot playing surface.
If Moscow's Red Square were interested in "going green," it would take just over 618 pallets of sod—that's 253,000 square feet.
Want to give New York City's Central Park a brand new grassy lawn that covers it from end to end and from side to side? That'll take 86,666 sod pallets (or more, if considering the 10% variance). We hope you brought some friends to help!
And now for the big one — and yes, the best: It would take over 16 BILLION pallets of sod (16,256,204,800 to be exact) to cover our Great State of Texas. All the other states would turn green with envy!
Here at The Grass Outlet, we're here to walk with you through every step of the sodding process. Take a look around our website, learn how sod is harvested, or contact our office to start your sod delivery.