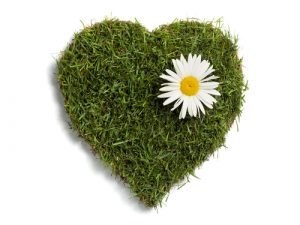 Curious to what it is we do on our Grass Outlet farms? Well, here's an overview of how we turn seeds into beautiful, fresh sod for your grass needs.
Planting
We grow a lot of grass—a lot of grass. And we grow many types of grass. Each species is planted in its appropriate section of our farm during the growing season.

Caring
Once the grass is planted, we nurture the grass to maturity over a year or two, depending on the species of grass (each takes a different amount of time to mature). We keep a very specific watering, fertilizing and mowing schedule to make sure that the grass is growing in optimal conditions. We keep our grasses weed free, disease free, and infestation free so that it can create the perfect lawn when installed.

Harvesting
To ensure freshness, we cut and harvest the sod within 24 hours of when the sod needs to be laid. The mature grass is cut into thick pieces that are ready to be installed as soon as it arrives. We use a specifically designed sod harvester that will cut the sod into desired pieces to be delivered to the customer.
We put great amounts of heart and effort into growing grass for you, and we hold great pride in the quality of both our grasses and service. The alternative to sodding, which is seeding, requires much less work and time to prepare, so it is cheaper as a result. Seeding can many times prove to be difficult without the right amount of attention by the landowner, as it can be washed away by water or eaten up by birds. The cultivation takes months and months before it begins to look like a lawn, and, while you might be saving money by buying cheaper seed, you'll be spending more in resources (newly planted seed requires a lot of water!). With sod, we grow and mature the grass for you so that you can save time and resources yourself and have a beautiful, healthy and mature lawn as soon as you lay it down.
If you have any questions or are interested in buying some new sod, contact The Grass Outlet today.