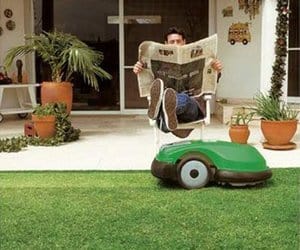 Summer's coming, and you know what that means: You're going to have to start mowing your lawn again. If that sentence just made you groan with dread at all of those hot days mowing your lawn, we've found a solution — robotic lawn mowers are finally becoming available in the United States.
Much like the Roomba did for vacuum cleaning, these robotic lawn mowers take care of your lawn with almost no supervision or effort required. Most of these new mowers can cut up to 10,800 square feet of lawn in a single battery charge.
Multiple companies have come out with their own robot lawn mowers:
Bosch Indego
Robomow
Lawnbotts
BigMow
Saving you time and effort won't come cheap, though. Almost all of of these lawn mowers cost more than $1,500 (and some cost more than $10,000!), so you'll have to decide if all that time saved is worth the cost.
No matter what kind of lawn mower you purchase, though, be sure your new lawn mower is a mulching mower, meaning that it will cut the grass small enough that it can quickly decompose between the blades of grass, so your clippings can nourish your lawn.
If you're looking for grass that requires less frequent mowing, check out our online store. We sell eight varieties of grass, and you can narrow your options by how often you'll have to mow your lawn. Have more questions about our grass offerings? Leave a comment or contact us today.