Using a Broadcast Spreader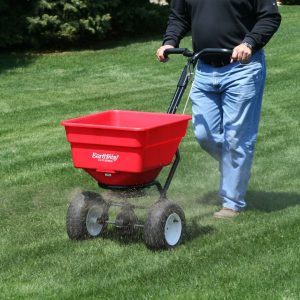 It's late spring, and that means it's time to apply fertilizer to your turfgrass. Investing in a quality broadcast spreader will enable you to spread that fertilizer across your lawn evenly and efficiently. This kind of uniform application is crucial, because too much fertilizer can damage the lawn, while too little just won't do the job.
How They Work
The mechanics of a walk-behind broadcast spreader are pretty straightforward. At the heart of the spreader is a hopper that has adjustable holes in the bottom. A gauge is mounted near the handlebar so you can control the size of these holes depending on the setting recommended by the manufacturer. The higher the gauge setting, the larger the hole size, which results in a thicker application. Alongside the gauge is a flow lever that controls when the material drops into the lawn by opening and closing a plate under the hopper holes.
Tips for Use
Don't load lawn products into the hopper while on your grass… Do it on the sidewalk or driveway to avoid any spills saturating your turf and damaging it. (If the product does get on the driveway or sidewalk, sweep it up so it won't later be washed into the water system.)
The suggested settings are often helpful, but they're not perfect. You will probably have to calibrate your spreader to better apply the fertilizer.
Maintain the same walking speed throughout the process. If you walk too fast, the application will be thin; walk too slow and it will be too thick.
Begin your application on hills or slopes first.
Close the flow lever when making turns to avoid saturation.
Quickly hose down the spreader after each use or before switching to a different product.
Your lawn's soil supplies nutrients necessary for turfgrass growth–but those nutrients often aren't enough during the growing season, which is why fertilizer is so helpful. Want more tips for fertilizing your lawn? Check out this guide from Texas A&M AgriLife.
All sod delivered by The Grass Outlet is fertilized and treated for weeds before harvest, so you know you're getting a healthy, robust start to your new lawn. Shop our online store or contact us if you have any questions.