Recycling Grass Clippings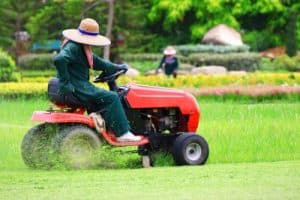 Like most people, you're probably looking for ways that you can reduce your environmental footprint. While there's no shortage of information on how to live a little greener, we have one more tip: Recycle your grass clippings instead of bagging them and sending them to the landfill.
This is a good habit to get into now, because numerous cities have started to refuse to take yard waste when picking up garbage. Some states have even banned grass clippings and leaves from going to landfills. This habit is easy, too — instead of bagging your grass clippings, leave the bag off your mower so the grass can decompose in your lawn, returning its nutrients.
Like we've said before, it's not a great idea to use your grass clippings as mulch for flower beds or potted plants, but it's great for your lawn. The city of Fort Worth created a program called Don't Bag It, which encourages homeowners to leave their grass clippings in the lawn. Homeowners in the program not only said that they were able to mow their lawns in 38 percent less time, but they also said that their lawns looked, on average, 30 percent better than before they began the program. Because of the success of the program, the city now offers its mowing, watering and fertilizing plans to the public on its website.
Some homeowners worry that grass clippings left on the lawn contribute to thatch. This isn't true, but if you're worried about thatch, you can read about the best way to prevent it in our Lawn Aeration Tips blog post.
Have questions about caring for your lawn? Visit our maintenance section to learn more. If you're in the market for a beautiful lawn, visit our online store. We have eight varieties of turfgrass, so we're sure we'll find one that suits your needs.