Finding the Right Lawn Mower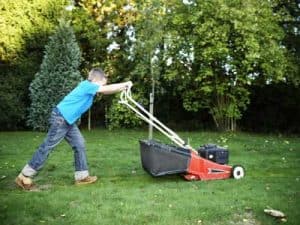 Freshly-mowed grass not only makes an attractive lawn, it's also vital for the health of the grass. Mowing at the right frequency and height helps roots grow deep, encouraging grass to not easily cave to drought, disease or weeds.
Shopping for a new mower can be overwhelming, though. Far from a handful of classic reel mowers to choose from, consumers today have dozens upon dozens of mower types and options available to them.
To prepare for a successful shopping experience, here are a few questions to ask yourself to help you narrow down the choices and find what matters most to you.
How big is the lawn you'll be mowing and what kind of terrain is it? It is important to use a mower that "matches" the space. For instance, if you have a tiny, flat yard, a manual reel mower will do (if you don't mind the extra effort on your part, that is). For a small yard with some slopes or plant beds to maneuver around, though, a self-propelled electric mower (cordless or corded) might be a good fit for you. The classic walk-behind mowers (both push and self-propelled) are suitable for small and medium yards and have dozens of features to choose from for a mower that fits your needs. Riding mowers are of course best for large spaces.
Who will be doing the mowing and how physically fit are they? Manual reel and push mowers demand more physical strength and endurance, so keep in mind who will be responsible for most of the mowing and what would be practical for them.
What features are you determined to have? The customer really is king when it comes to buying a lawn mower. Manufacturers offer a variety of features that make mowing more convenient, more powerful, more "green", etc. So what features are you determined to have? Some popular ones:
Self-propelled (mowers that automatically move forward at 1 to 3.5 mph)
Electric start (instead of a pull start, simply push a button or turn a key)
Variable speed (useful when you have both open spaces and trees/plant beds)
Mulching mower (mowers that distribute clippings back onto the lawn instead of into a bag)
What is your budget? One of the easiest ways to narrow your choices is to determine how much you can or want to spend. A manual reel mower can cost as little as $75, while riding mowers can get up to $1,500. Plenty of highly-rated mowers fall in the $300 – $500 range, though.
We hope this has helped you get at least one step closer to the right lawn mower for you. Next you can find mowing tips in the maintenance section.
The Grass Outlet is your source for robust Texas sod. For a brand new lawn in just days, shop to find the right variety for your space and order online. We proudly serve the Austin, Houston, San Antonio and Dallas areas.