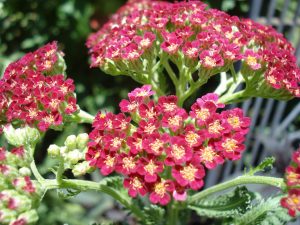 If you've just switched to a lawn with better tolerance of droughts, you're probably seeing huge savings in your water bill. But you can take those savings even further by transitioning your flower beds over to more drought tolerant plants.
Before visions of cacti and yucca plants start filling your head, don't worry: You can have a drought-tolerant plant that doesn't look like something out of an old western film. Here are some of our top choices:
Blanket flower — This perennial comes from the prairie land, so it has no problem with full sun and dry soil. It's flowers are usually bright, ranging from deep reds to luminous yellows.
Yarrow — With bright blooms in red, yellow, orange, pink and white, yarrow is such a beautiful flower that you'd be happy to have on your kitchen table. This perennial is easy to grow, does great with hot days and dry soil, and most wild animals won't touch it.
False Sunflower — False sunflowers a lot like more compact sunflowers, growing to 3-6 feet tall. They're easy to grow, drought tolerant and have a longer growing season that sunflowers.
Marigold — Coming in basically every color you can imagine, marigolds are much hardier than their fluffy bulbs might suggest. They're annuals, so you'll have to replant each year, but they do great in full sun and dry soil.
Cosmos — These annuals bear a striking resemblance to daisies, but they're much better in well-draining or dry soil than their daisy counterparts.
Lavender — In addition to smelling great, the blooms from this full-sun, well-drained soil-loving perennial can be used in crafts and cooking.
If you haven't switched out your lawn for one that's more drought tolerant, it's time. Water in Texas is becoming increasingly rare, which means that it will start getting more expensive in the next few years. Our online store offers eight varieties of turfgrass to help you find one perfect for your lawn.