Does Your Grass Get Crabby?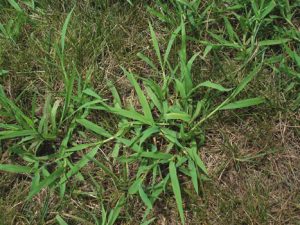 Lawn's annual pest, crabgrass, strikes again. Do you know what to do? Using crabgrass pre-emergent herbicide is one of the best ways to prevent crabgrass germination. The hardest part is getting the timing right to apply your herbicide. Applying too early and microorganisms will break down the herbicide, no longer as effective as it should be. Applying too late and you will miss the early stage of germination when the herbicide will work best.
When It's Best:
The optimal time to apply the herbicide is between the second and third mowing of the year with the soil at 52 degrees Fahrenheit.

Remember that crabgrass can spring up later in the summer.

Definitely pull crabgrass as you spot it on your lawn. However, if you see crabgrass and it looks like it will pull a substantial amount of grass- it might be a good idea to spray postemergence herbicide.

Pre-emergent herbicide works best when soil is moist and plants are dry.
If you are wondering if there is a natural alternative, there is one: corn gluten meal is found to have pre-emergent properties. Is it as effective? Some say that it's not guaranteed like herbicide and is more costly, but if you want to use herbicide as a last resort, you can use corn gluten meal as a substitute. Like herbicide, timing is crucial and applying it before seed germination is key.
Hands down, the best way to prevent crabgrass growth is a healthy lawn. Watering thoroughly, mowing when needed, and good aeration are all practices of a healthy lawn. If you have more questions, we're here to help, contact us at The Grass Outlet!