Thinking About Lawn Edging?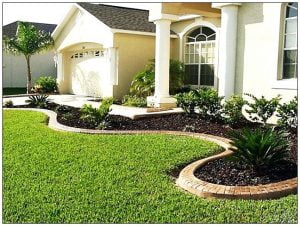 If you are looking for a simple, inexpensive way to spruce up your yard, then lawn edging might be your best bet. Lawn edging separates grass from your flower beds, vegetable garden, trees or walkways in a way that is attractive and practical.
There are multiple benefits to edging your lawn:
Frame and highlight your flowers, shrubs or vegetables
Create nice clean lines in your yard
Keep mulch from wandering into grass
Protect flower and plant beds from invasive grass varieties
Save time spent on trimming and weeding
Add value to your home without spending a lot of money
With the dozens of varieties and designs available at home improvement stores, there's bound to be a type of lawn edging that captures the look you want to achieve for your space. Common edging materials include plastic, wood, brick, metal and stone. Metal tends to have a sleek, commercial look, while stone and brick come across as more formal. Wood and plastic edging are popular and versatile; try a miniature "fence" version or go rustic with railroad ties.
Whichever lawn edging you decide to go with, remember that a great looking lawn starts with great looking grass. At The Grass Outlet, our number one goal is your satisfaction. Shop our online store or contact us if you have any questions about getting started.